When I found Nadine Davidoff, by chance, while browsing the web, little did I know I'd stumbled upon one of Australia's most experienced and talented literary editors. But what I also found was an editor who intuitively saw the interwoven themes in my memoir, Ubuntu. Nadine believed in my story and its impact. With her vast editing experience, professionalism and innate understanding of 'what makes a great story', my memoir became a truly inspiring and engaging read. For any writer, especially an emerging writer, it is a great privilege, indeed, to work on a manuscript with Nadine.
Heather Ellis
Author of Ubuntu: One Woman's Motorcycle Odyssey Across Africa

I approached Nadine for a manuscript assessment and then worked with her on a structural edit on what would become my debut book, Found, Wanting. Her generous insights and clear feedback were invaluable, and it was only at that point that everything in my draft started to 'click' for me. She is brilliant and I highly recommend her to any writer looking for guidance.
Natasha Sholl
Author of Found, Wanting

Every now and then you get lucky.  I got lucky when Nadine Davidoff edited my book True Pleasures: A Memoir of Women in Paris.  I only realised after the process was over how skilfully Nadine had managed me and my manuscript.  With the most delicate touch she guided me to tighten, clarify, enrich and improve the text – all the while making me feel both confident about my writing and open to the process of change.  Nadine understood exactly what I was trying to achieve with my book, and helped me to get as close as possible to that ideal. I could not have asked for a better experience, but more importantly, True Pleasures was a far better book because of Nadine's immense editorial gifts.
Lucinda Holdforth
Author of Why Manners Matter

Nadine helped me to locate key ideas in my structuring of Lovelands. She was deeply encouraging and insightful about my work and went above and beyond to support and guide me as an author. Not only is she a wonderful, clever editor but also an invaluable bigger picture thinker to have in your corner. My confidence in the project grew as we worked together, often because Nadine knew just the right question to ask to bring out something better in the work.
Debra Campbell-Tunks
Author of Lovelands

Nadine Davidoff was my first literary editor. Without her, my novel, The Book of Emmett, would have struggled. On reading the manuscript, Nadine saw with more clarity than I did what I was trying to do. She made suggestions and armed with them, I went through the book again. Nadine's belief in the story, and also in my ability, was critical to my transition from journalism to fiction. She generously gave me confidence and direction. I cannot speak too highly of her as a professional. Skilled and intuitive, funny and wise, smart and kindly; what more could anyone ask for in an editor?
Deborah Forster
Author of The Book of Emmett

Nadine was assigned to me by Random House to work on Delinquent Angel. Her judgment was impeccable. She was able to position herself above the text, find the strengths and expose them. On structure, she saw the whole picture with clarity and then worked magic. Without her vision and understanding of the intention of the work, I doubt that it would have reached its potential. She collaborated with intelligent calm and enthusiasm. Lucky the writer who works with Nadine.
Diana Georgeff
Author of Delinquent Angel.

Nadine has an unnerving ability to destroy the dross we dress-up and dream about. When editing Lamarck's Evolution she gently but certainly excised the words I loved the most; all of the beautifully descriptive prose that made me feel like a writer. And the work instantly transformed from a lumpy manuscript into a book. And I became a writer.
Ross Honeywill
Author of Lamark's Evolution

Not only is Nadine utterly reliable and professional,
she is as fast as lightning. Under pressure – and there is always plenty in the editing process – she never loses her cool and displays grace and humour. She was a joy to work with
Janine Burke
Award-winning author of fifteen books of art history, fiction & biography, including The Heart Garden & Australian Gothic.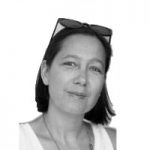 I worked with Nadine Davidoff for four years while she was a senior editor at Random House. During this time, Nadine worked across a number of award-winning titles – fiction and non-fiction (commercial and literary). Not only is Nadine a talented and sensitive editor who brings out the best in the authors she works with, she is highly professional, reliable and efficient and works to tight production deadlines. She is a publisher's dream, with that rare quality of being able to work both independently and collaboratively with author and publisher. I recommend her without reservation.
Jeanne Ryckmans
Former publisher at Vintage, Knopf, Random House.

I participated in the Writing for Readers course at Melbourne University, in which I had the great fortune to gain expert guidance from Nadine on how to adapt my academic writing for a general audience. Nadine articulated so precisely the qualities that make a book a good read that I left after just one day with a clear vision of how I wanted to transform my work. I saw that, in addition to her skills as an editorial consultant, Nadine has the gift of being able to inspire writers, giving them tremendous encouragement to realise their potential.
Dr Gabrielle Wolf
Received a Melbourne University School of Graduate Studies Grant to transform her thesis on Australian theatre into a book for general readers.

Nadine edited my short story Honeymoon for Best Australian Stories 2005. Her advice was insightful, perceptive and subtle. She expressed her opinions with elegant clarity, giving me concrete examples to work with, yet somehow avoiding the restrictive clamping-down on the story this might lead to in the hands of someone less skilled. It's always enormously reassuring when an editor can write beautifully herself, and Nadine's gentle, intelligent approach to her work inspired great confidence. The story was vastly improved by her contribution.
Charlotte Wood
Author of numerous fiction and nonfiction titles. Her latest book is The Natural Way of Things.

Over the last few years, I have worked with Nadine Davidoff on three distinctly different publishing projects: the Prime Ministers' Series, of which I was general editor; my semi-fictional work of social criticism, The Inspector General of Misconception; and Best Australian Stories. Not only is Nadine a highly experienced text editor, she also has impressive client/editor talents which are rare in publishing and which are critical to the production of creatively enhanced books.
Frank Moorhouse
Award-winning author of numerous books of fiction & non-fiction, including Grand Days, Dark Palace, & Martini.

Nadine Davidoff's presentation on structural editing was FANTASTIC and was perfectly situated in our timetable. Not only is Nadine brilliant, her energy and enthusiasm is infectious. What an inspiration!
Catriona Murdie
Residential Editorial Program participant, 2017

Nadine's enthusiasm and technical knowledge was motivational – her approach to structural editing, the examples she provided and her powerpoint presentation was perfectly timed to inform our intensive editing workshop sessions. The knowledge I gained from Nadine's presentation and subsequently having the opportunity to put that knowledge into practice in the workshops, will inform my own professional practice for life.
Kristy Bushnell
Residential Editorial Program participant, 2017